At dsparada, our staff uses and promotes the very best salon products on the market. All of the products may be purchased from the salon to ensure your hair will grow healthy while extending your color beautifully in between visits. The products you will find at dsparada include the following:
Goldwell is best known for amazing hair color. They also offer an assortment of premium hair care and styling products to help you maintain the ultimate style, condition, and color perfection. You can find Goldwell products at top salons throughout North America. Our staff uses Goldwell Salon ColorGlow products and the Goldwell Style Sign products. All of the Goldwell products are available for purchase at dsparada.
---
KMS
products are arranged conveniently into START, STYLE, and FINISH categories to help you select the best combination for your hair type. START with style-prepping shampoos, conditioners and treatments. STYLE with creative styling products formulated to nurture your hair type throughout the day. Build it. Shape it. Mold it. Boost it. FINISH by sealing in and maintaining your desired look all day.
---
ColorProof Evolved Color Care utilizes extraordinary next-generation sulfate-free, salt-free surfactants to gently cleanse hair without stripping color, along with a variety of other key ingredients to deliver unsurpassed color and heat protection, and incredibly shiny, vibrant, healthy hair. ColorProof Evolved Color Care provides outstanding color protection, and their line also offers proven benefits for your hair type, including volume, moisture, a smooth texture, and clarity, followed with an array of amazing styling and finishing products.
---
Kevin Murphy is a fashion-focused range of salon-only, professional hair care products created by Kevin to meet his needs as an editorial hairstylist. Unsatisfied with the performance of mainstream hair products, Kevin recognized the need for weightless products that provided performance, strength, and longevity to support today's ever-changing looks. Born from the same philosophy as skin care and inspired by nature's best, the Kevin Murphy range of shampoos, conditioners, treatments, and styling aids, is an indulgence of runway looks and natural aromatherapy catered for every hair type.
---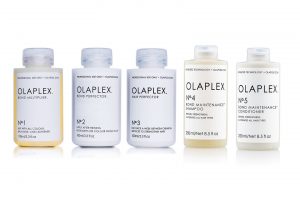 Olaplex Hair Perfector reconnects hair bonds in the hair that break due to thermal, mechanic, and chemical services. It is free of silicone, sulfates, phthalates, DEA, and aldehydes, and is never tested on animals. Olaplex is a tool used in the salon to maintain and protect the integrity of the hair shaft, as well as strengthen the hair. Olaplex No. 3 is what our guests can take home to continue the strengthening and restructuring process while awaiting their next appointment at dsparada Color Salon. Our guests notice an immediate improvement of their hair after continued use.